It's well over a year after my first booth experience and since then, I've participated in a wide range of art fairs and festivals ranging in cost from free-to-enter to ~$700. I've learned a lot of things along the way, especially at this large art festival I had in the summer of 2018, the Bellevue 6th Street Art Festival.  I will try to share my experience with you in a way that is organized, though I must say the experiences themselves were always somewhat messy and chaotic :-). But I learned something new every time, especially after talking to other artists who...
---
An art student reached out to me with some questions, and I thought that maybe sharing my answers with you all would also give you some insight into my process and who I am as an artist. So here goes… 1) What was your first step in starting your journey in the art world?After leaving my job in the tech world and writing my fantasy novel, The Shapeshifter of Kayenta, I began painting as a way of healing.2) Do you plan on having your own gallery space, and if so, how do you plan on doing this?I hope to have...
---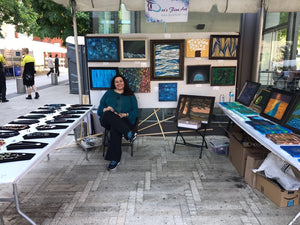 On July 8th 2017, I participated in the Portland International Muslim Cultural Festival as a vendor, selling my paintings and jewelry. It was a great day, very well organized, and unlike most festivals, the organization that put this festival together (the Muslim Educational Trust) offered not just the 10′ x 10′ space for the $100 application fee, but they also put together the booth canopy AND gave us one 8′ table plus 2 chairs! It was really an amazing deal, and the turnout to the park was great. I met so many interesting people, including the man who served as president of my...
---
I've loved painting for a long time, and learned to oil paint ten years ago though I didn't practice much at the start. In my youthful arrogance (to put it nicely), I would sometimes see abstract art and wonder why on earth anyone would pay that much for it. "I could paint that," I'd tell myself. But the truth is, I was wrong for a multitude of reasons. I mistook the art not triggering any emotional reaction in me with it being "Not Art", and looking at its simplistic nature, I convinced myself that I could do it too if...